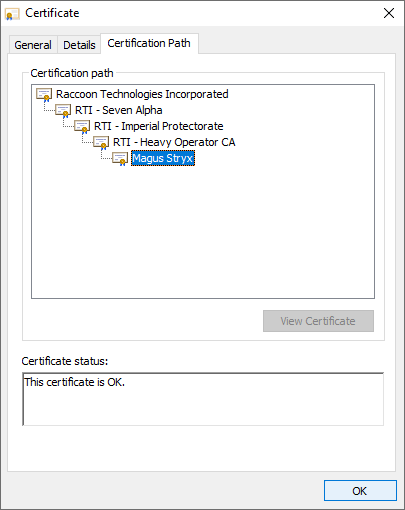 RTI provides Network Infrastructure equipment systems for a specialized private platform.
If you are not privy to the use of such platform, speculation as to its design or services may be a violation of the Oklahoma Computer Crimes Act (21 O.S. § 21-1951).
These platforms consist of high class enterprise network connectivity equipment and specialized computer workstations manufactured by other firms for this product class.
Any effort to impair the vendor relationships between integrator and manufacturer may be construed as INTERFERENCE IN INTERSTATE COMMERCE.
Our platform is based on "Heavy Machines", "AGS", and "BGS" server and client models, containing software products licensed for this purpose and exclusive to our vendor relationship.
Impersonation of this product by any claim may be construed as a false prospectus or 78 O.S. § 78-31 violation subject civil or criminal prosecution.
Do not attempt to duplicate, reverse engineer, or make claims consisting of product comparisons without legal authorization, as Oklahoma Trade Secrets and other agreements apply to our product, license, and use.
We are aware of one such fraud by a VICE PRESIDENT OF SYSTEMS ARCHITECTURE operating in Texas, Oklahoma and other States; against whom we are in litigation for XXIII-1A unlawful labor organization and INTERSTATE COMMERCE fraud to forfeit property. Do not presume to aid this activity without civil and criminal potential liability.
Hegelian Dialectics and American Dialectics are opposing theologies for which our network tools were built to resist and protect users against 47 U.S.C. § 230 violations popularized by competitor services and radical socialist activity enabled by major "Interactive Computer Services" by definition. To understand "Hegelian" theology, one should read the primer, Elements of the Philosophy of Right (1821) The main purpose of their abuse is to escape 47 U.S.C. § 230(c)(1) which says, "No provider or user of an interactive computer service shall be treated as the publisher or speaker of any information provided by another information content provider."
"or user" - is key verbage.
Violation of this clause is explicit in Facebook and Twitter modification and editorial mutilation of content to suit their own speech and political policies by extracting credit and value from users illegally, damaging speakers rights under Oklahoma Constitution Article II section II-3 and II-22 rule to suggest a right to suspend "wrong thinking" users to coerce public appearance of a consensus contrary a real Democracy or Republican form of Government.
Seven Alpha (IP7A) provides strong protection from such 'mutilation' of free speech, and accountability across multiple platforms and virtual environments, personas, and a family of connected registered user systems.