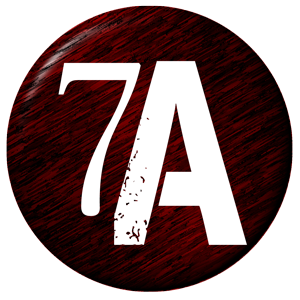 Among the fraud now reported include formal civil suit alleging on video evidence that the ballows submitted as 'mail-in' were accepted with false post mark by the UNITED STATES POSTAL SERVICE, and an order to segregate those ballots from others in the count so issued by a Federal Judge.
Despite this, November 7 2020, the Biden Campaign aserted that upon ASSOCIATED PRESS claim, they had 270 legitimate electorial votes, and the election was finalized and over without dispute (or right thereof).
As of this time, Arizona and Georgia exceeded the vote count by 21,188 and 7,500 ballots only, giving 100% of those states electoral votes to Biden while 90% of Arizona and 99% of Georgia votes were estimated in. Nevada held 25,599 votes with 88% of the voting in Nevada finished, out of 1.2 million votes, leaves 150,000 votes not counted in that state.
This sort of audacity to 'call' the election and 'claim' a legal victory based on projection prior to the final vote, or to vote for the electoral college prior such full count of the votde where the law obligates the vote be cast in any form based upon the total ballots, shows faithless the Democratic Party to all ordinary rule of law. Only 50% of Alaskan's votes have been counted, and 90% of Arizona and 88% of Nevada.
Worse, among persons on disability, statements are appearing that Biden promised to 'double the payments of social security recipients on disability' to win votes - a sale of office that would corrupt his candidacy prior any public ballot question on face.
Amid this the present totals are 49.7% to 49.2% of the popular vote, with Biden over Trump by 0.5%.
Project Veritas has produced actual video of a poll worker manually filling out Biden ballots and placing them one after another in the stack, further raising concerns by legitimate officers of the United States that broad disregard for this signals a full and unapologetic coup by fraud in key states constituting an 18 USC Chpater 96 RICO violation.
Observers were also refused access to the mail-in ballot counting in key states, and this fact asserted by both sides, whereby all ballots at that time would be void under rule of law. Democrats counter they were also not allowed into the facility or to inspect under any different terms, so this fraud must be admitted because of 'fairness' doctrine, enjoinging their claim to that of the other party in defense of any right to investigate or duty to provide access to officers of the party subject to the legal process, a fraud.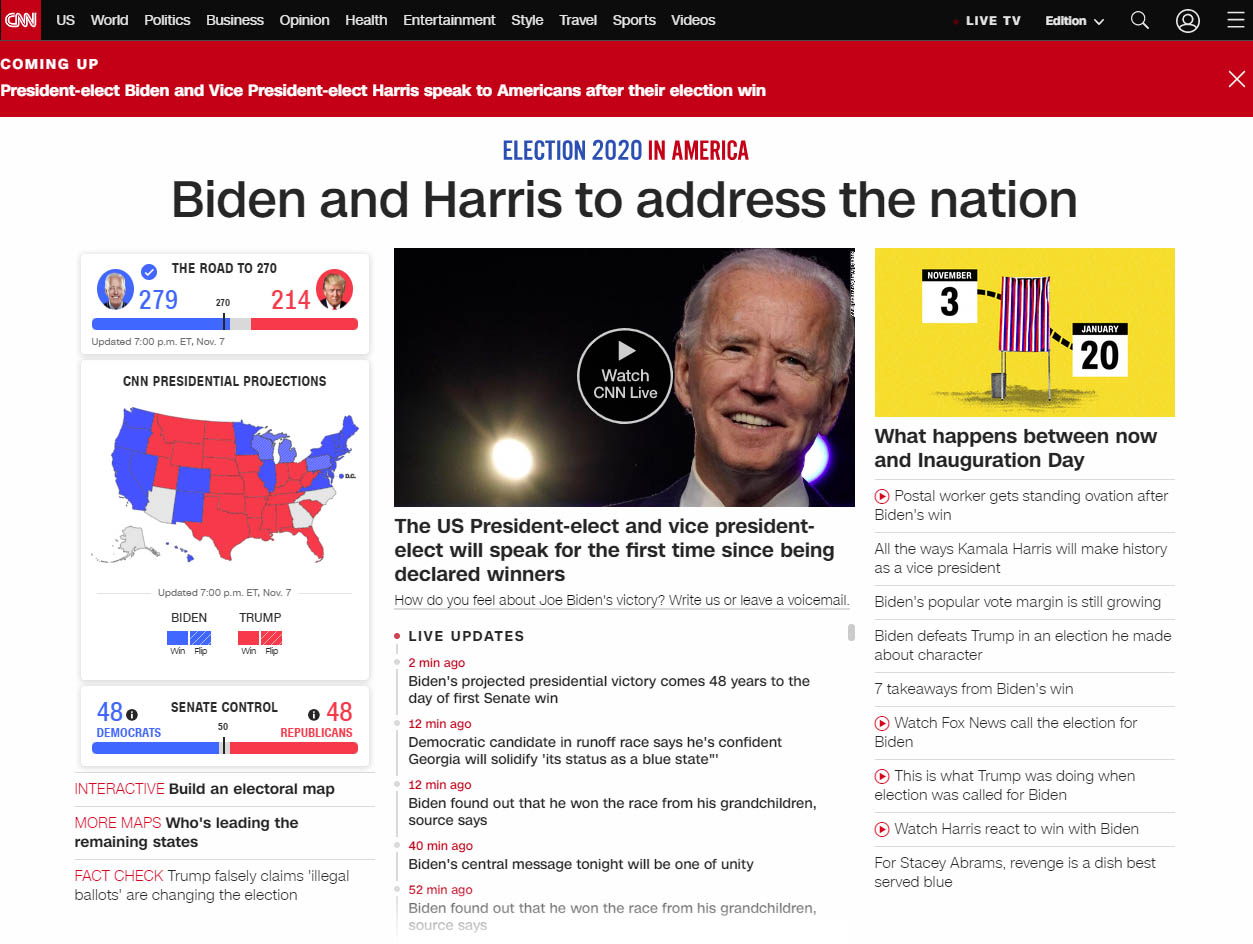 What the left fails to realize at this time is their very acts are FALSE CLAIMS, and FRAUD.
CNN claims (right) that the election is over prior the counting of all ballots, a fraud not permitted at law in the United States, and publicises the rally for such activity while "retaliation committees to ensure Republicans may never work again" for support of Donald J. Trump administration continue by Alexandria Ocasio-Cortez themed The Trump Accountability Project.
See the Full Website Calling for Civil War by AOC and DNC (PSD slideshow format)
Stating there:

We should welcome in our fellow Americans with whom we differ politically.

But those who took a paycheck from the Trump Administration should not profit from their efforts to tear our democracy apart. The world should never forget those who, when faced with a decision, chose to put their money, their time, and their reputations behind separating children from their families, encouraging racism and anti-Semitism, and negligently causing the unnecessary loss of life and economic devastation from our country's failed response to the COVID-19 pandemic.

We should not allow the following groups of people to profit from their experience: Those who elected him. Individuals who worked for the Trump for President campaign, Republican National Committee, and affiliated PACs in 2016 or 2020.

Those who staffed his government. Individuals who worked in any role as a political appointee in the Trump Administration.

Those who funded him. Individuals who used their massive personal wealth and influence to bundle money for Trump.
The prior is a confession of XXIII-1A "RIGHT TO WORK" conditioned on SUFFRAGE RIGHTS (VOTING) execution, in planned premeditated retaliation to suspend the ability to access markets by JOE BIDEN, as 'head of the Democratic Party' and endorsed by Alexandria Ocasio-Cortez in writing.
Fox News has cited the following, and such rule of law is true, while Biden supporters began harassing and threatening Trump supporters immediately on news by the ASSOCIATED PRESS of a false claim of official victory or certified ballots by the elctoral college, and prior the certification of such state claims at the Federal Level obligated by law.
Aiding in this felony fraud, did CNN claim falsely that the use of the words "FRAUD" were absent from the legal civil suit, and so in absence the use of such claim is a 'lie' by President Trump contrary the factual process of law, whereby discovery or prima facia evidence of findings based on those allegations of misconduct may in subpoena dispose the sustianed claim of a factual vote count by those media outlets as FRAUD.
We are witnessing 'a trial by media', and the violence that accompanies such criminal abuse of office of the public trust and of public profit in the public trust.
The purpose of which is to enable by legislation in a $9 billion Chinese-Japanese investment, among many like it, a fraud under color of legislation ex post facto. Such work, and similar 'carbon alarmist' claims negated by real science - such as how to produce food out of carbon dioxide to feed the whole planet thus ending hunger - persist at confusing low-intellect voters and children now permitted to vote after 18 years of indoctrination in public and state leftist programs.
To programmers, this is also explicit fraud, as it signals the "XOR versus XAND" gate argument of radical socialist movements 'justice' behavior - suggesting that more than one defect is required to invalidate a process in 'emotional thinking' common among lifetime drug and alcohol abusers, mentally ill persons, and Democracts; while to a critical thinking adult the failure of any criteria is sufficent to void the logic. Thus XOR means that one or the other may be true in order to permit passage of a 'VALID' statement. While XAND gates in circuits and software logic require ALL CONDITIONS MUST BE MET or no outcome is 'VALID' despite intent, best effort, or emotional desire not to repeat the test which is indicative of low intelligence and human cognitive dysfunction in rudimentary logic.
Other examples of XOR vs XAND coping are present in the desire to 'INVALIDATE' any claim not met by the emotional dysfunctional thinker which is contrary their 'desired outcome' or 'position'; while refusing equally to meet such requirement and 'disbarring' any authority other than those they appoint, disclosing the failure to actually possess or operate on a civil procedure level and impersonation of genuine empathy by rote behaviors, lacking the actual ability to read the complaint or sustain indefinite findings as valid pending agreement. These 'cognitive dysfunctions' are central to the Biden-Harris and Democratic National Party activity as if normal, because they are sino-asian theology of law not admitted in the United States as valid logic, and conceal the 7% of naturally occurring sociopath population themed a component of China, Japan, and other radical asian culture through deep repression of individual value, property, and dignity since feudal era governments and aggravated by their loss and submission during 1900-2000. To 'disagree with society' is simply themed 'mental illness' in those cultures, contrary the reserved rights of individuals and protections and limitations of a Republican form of government, which is legally and functionally alien to that of a 'Democracy', and admits both state and private property separately in such public trust.
The failure to respect these 'boundaries' and resultant 'borderline personality disorder' (BPD) paired with 'narcissisic personality disoroder' (NPD) inherent in the prior class-based violent and brutal societies as normative behavior, make working with them impossible where such rules of conduct obligated persons in Western Society are ignored or refused standing. Economic power granted credit fraud by China and Japan, paired with unlawful dealings to sabotage United States industry and government process, including overt bribery and organized labor union pressure to extort and export trade secrets, destroy equity, and kidnap to coerce persons in the United States - make the sudden interference in the United States Election by China and Japan a chilling change in sino-asian and American relations, punctuated by the behavior of Joe Biden and Kamala Harris "who we are" comments and remarks to criminalize Americans, their values, their religious convictions, and impose martial law under color of 'public health and safety' after a biological weapon decimated 200,000 American lives and brought the economy to a halt predicated on demands of destrucion of the Constitution of many states and persons right to due process.
This conduct is so extreme and remarkable, on examination, that a formal communications network has been formed to deal with the $200 billion USD SAUDI ARABIAN GOVERMENT trust used to funnel money into this fraud, aiding the buy-out of American and British companies including NVIDIA CORPORATION and ARM HOLDINGS, as well as $9 billion USD in labor fraud themed 'UBER" to sway insurance and law enforcement into a gray-market for-hire industry compelling further losses in the medical insurance and taxpayer revenue areas, jointly undertaken by TENCENT HOLDINGS CO LTD and the CEO of ALIBABA via SOFTBANK GROUP CORP as intermediary, thereby placing PEOPLE'S REPUBLIC OF CHINA interests into Western Markets ordinarily barring this abuse, by agency of NATION OF JAPAN and benefits formed in 2000-2001 government of Japan purchase of VERIO INC. and COGENT COMMUNICATIONS and later T-MOBILE / DEUTSCHE TELEKOM by the same firms; then giving away subsidized services to UNITED STATES customers in exchange for market share and control over th e vital communications of UNITED STATES business and industry afforded this foreign state sponsored interference by JOE BIDEN and later officers of the UNITED STATES and their family members (HUNTER BIDEN, et al).
To an analyst, this activity alone is ultimately criminal, and already under report of foreign interference, but the value of such bribery exceeding $30-$50 billion USD, overshadows the $7 billion annual budget of the United States Department of Justice and Federal Bureau of Investigation (FBI), neutralizing those agencies and trasnferring their oversight to civil boards themed the FEDERAL TRADE COMMISSION (FTC) and SECURITIES EXCHANGE COMMISSION (SEC), and United States Corporation Commissions - none of which have any interest in disrupting business investment without regard to national security or long-term strategy of the UNITED STATES. The only obstacle to this fraud was Donald J. Trump, the 45th President of the United States, and so the removal of Trump on the eve of such purchases (NVIDIA, $42 billion value) and investment to create a monopoly in self-driving automobiles and electric power paired with Ukraine and Chinese corporations, and with TOYOTA and other very large labor organizations in NATION OF JAPAN, appear to be a nationally owned state-interest corporation activity and model initially tested in UKRAINE and other destabilized nations - paired with mineral rights acquisition activity in the United States, Africa, and South America by China.
By deceiving the public to believe this is 'social' and 'moral' activity, omitting the monopoly design and investment claims, government regulation over industry, and systematic destruction of equity and labor rights of small capital firms; China is engaged in an economic war under color of trade and investment with the United States, by which the United States government under the Democractic Party are complicit with the sale of the future ownership and right to compete (to work) with the foreign national value and legal systems; in which any criticism of the government of China or its associated arms is a crime and contrary 'ordinary mental health' by intent and fiat claim, a sovereign power not afforded such organization or agency under U.S. law.
This is evident in the conduct in the 2020 Election, and a clear case of foreign ownership of media and content, by which we cannot and should not accept the result whatsoever.
The very suspension of persons seven-days prior to the election ruling (Nov 1 2020) while other parties published hate speech and false claims, on face voids the contest and implicates both FACEBOOK INC., TWITTER, and INSTAGRAM in criminal activity to disrupt the UNITED STATES election process by 1st AMENDMENT VIOLATION in concert with a foreign government candidate and fundamental injury to the equity and enterprise of the People of the United States; showing the danger of such "230" rule firms to violate the limitation just for a moment and at a critical time as to impact national civil procedure. Then in XOR fashion, claim this exemption while seeking to retain the benefit.
On face, the election is VOID.
Fox News Desk called the election for Biden November 7 at noon, 2020. Fox has been publishing defamatory articles via OKFOX since October, and has little credibility beyond CNN and MSNBC at this time, due to Saudi Arabia ownership of that firm acquired in prior years. Only it's pretext of coverage of events for the Republican party has concealed a complete collapse of U.S. media and news themed national socialist and revolutionary activity against the Constitution of the United States. This move therefore comes as no suprise, and is lock-step with the previous claims ignoring results not themed 'official' by states named DEFENDANT in civil suit already filed - and thus a legal matter of the court which bears no right to false report.
As prior stated, regardless of the election outcome, we have seen the United States decimated by foreign criminal journalism and incentives paid from Saudi Arabia, Japan, and China. The value systems proposed by Biden are lock-step with Chinese Communist Party, and alien to the American People and Constitution of the United States, predicated on the embezzlement of the United States Treasury under color of law.
The net result indicates a division between these foreign state-sovereign-fund trusts acting via former United States corporations and media corporations, versus domestic equity owners and common citizens right to participate in commerce outside of 'labor union' activity barred in Oklahoma Constitution, ARTICLE XXIII-1A 'RIGHT TO WORK'.
Even if President Trump had won, the presence of 40% of 'alien theory of law' supporters, paired with fraud at the state level, and by the UNITED STATES POSTAL SERVICE (USPS), continue the presence of the 'civil unrest' claims concealing likely civil war in the United States among its franchises who uphold the Constitution of the United States, and those acting in this form of sophisticated public fraud as themed in child kidnapping to conceal in violation of ORDERED POSSESSION for 17 years in PETERSEN v ALLEN, a felony 21 O.S. 21-891 and 76 O.S. 76-8 violation sustained by the prior administrations and states in similar fraud.
Paired with silencing of Trump supporters and businesses, we see no way to call the 2020 Election legitimate, and agree with the law in this matter and Donald Trump. As a former call center security officer, hearing the description of prcedures used in the ballot counting as being 'fraud-proof', automatically register as criminal claims by the states in this matter not permitted any ordinary security procedure under ordinary card payment services. After 25 years of monitoring fraud in these circumstances in banking for FirstUSA and BankONE, the conduct in this matter is criminal and premeditated in professional assessment of claims by the Biden campaign.
We will be certifying our clients using SEVEN ALPHA ™ idenfitication, and customers not possessiong SEVEN ALPHA ™ registration will not be permitted to buy products or services. Ryzen 5000 products and other advanced technologies will not be sold to non-members, regardless of Citizenship. SEVEN ALPHA ™ does not discrimate based on sex, race, religion, gender, or national origin.
Considering the USPS delivered our papers to the wrong house consistently in 2016-2020, forcing us to pursue our own mail in the City of Ada repeatedly and at great expense, we are prepared to accept that fraud and discrimination by USPS employees so reported to falsely postmark ballots arriving too late and acting as a polling place, this method of voting appears suspect.
The values, claims, and policies suggested by Joe Biden, combined with conduct, do not suggest he is fit to serve in public office, and such conduct in the kidnapping of Magnus Vincent Petersen during his prior term suggest his role in human trafficking is substantially validated on the facts as a former officer of the UNITED STATS during that extortion for ransom and export of technology to PEOPLE'S REPUBLIC OF CHINA predicated on that child stealing (felony) and concealment to carry out corruption of blood. Now that the territory from which he abducted such child is NO LONGER A PART OF THE UNITED STATES since MCGIRT v STATE OF OKLAHOMA and further, never was, this activity by the UNITED STATES will be subject legal challenge in forfeiture of the United States Patent and Trademark Registry in claims already before the court on this conduct to extort.
SEVEN ALPHA ™ is a formal association for communication organized against human trafficking and fraud themed in CHINESE COMMUNIST PARTY (CCP) and national socialist activity to extort and blackmail by NATION OF JAPAN in 2001-2020.
Non-members are not eligible for SEVEN ALPHA™ commercial contracts or other rights, predicated on the fraud now evident in the Biden campaign and other national socialist activity in state and Federal claims themed criminal racketeering in human trafficking and fraud to conceal organized extortion of securities and estate benefits, so themed 18 USC 666, in 31 U.S.C. 3729(a) claim filed May 2020.
Because the UNITED STATES SUPREME COURT act, in error not permitted their authority to disbar the rights of the design and impose a populist and foreign theory of law upon the UNITED STATES not afforded 'the guarantee of a Republican form of government', did this fraud occur, and we the People per Oklahoma Constitution Article II section II-1 do invoke our right to reject such claim whereby 50% of the popular vote is void based on gerrymandering of districts and states to imply an ALL OR NOTHING rule contrary the will of large numbers of the American public, thereby subverting the economic and domestic policies of the United States to foreign control and foreign influence against our general welfare and interest evident to a sophisticated person.
Reliance on the voting technology employed and methods employed, in concert with special circumstances and foreign biological weapon use and intimidation of voters, and in procedures and public communication disruption not permitted a free state; do not afford legitimacy to the 2020 PRESIDENTIAL ELECTION, and compel a resort to ARTICLE I section I-1 and II-1 rule by RACCOON TECHNOLOGIES INCORPORATED against such conduct themed a felony fraud in malpractice of medicine and mental health as if a monopoly of the state, to coerce and compel in secular taking and fraud by false acts and false records prohibited 5 U.S.C. and 18 USC 241, 242, and 2071; the rights of Americans subject to such claims as to negate their authority in this and other jurisidictions, and to assert authority of those persons in NATIVE AMERICAN TERRITORY now themed southern Oklahoma Territory prior treaty, the authority of a separate and independent government from the Biden Administration and any agency made in immitation of the UNITED STATES or other legal person authorized, by way of poor or incompetent execution of mail-in and USPS voter claims processed on or after November 4 2020. Fraud by the States to operate elections after the fact, while enjoining the election prcedure upon the factual claims of such process, whereby the states - not the people - elected the officer using uncertified and illegal tampering with official stamps and forms, and in concert with violence and use of secular taking a plan or scheme so made; have no authority over United States Citizens resident outside the borders of the UNITED STATES and are part of a large scale fraud to forfeit the estate and equity thereof against the American People under foreign theory of law.
RACCOON TECHNOLOGIES INCORPORATED therefore stands by the laws of the United States contrary this SEDITION (18 USC 2384) in FOX and CNN claims, and by Presidential Candidate Joe Biden, on the following law; and asserts the suggested organization of any government body such as the COVID 19 TASK FORCE by JOE BIDEN themed November 9 2020 to begin work; is a criminal act not permitted standing or authority and a foreign government alien to the UNITED STATES or other lawful agent of the country and the People so made at law.
Citing the prior direct and malicious tampering November 1 2020 to November 8 2020 by FACEBOOK INC. and TWITTER, themed section '230' common carriers, we move to install SEVEN ALPHA™ network services against this fraud, and to carry on the ordinary business of the United States separate and legally sovereign from the rebel government and its agents activity.
The obligation of officers to act in the interest of the people, not in interest of profit or to please or comply with foreign nations intent on subordination of the United States or its people, remains superior to any duty for-profit and against the sale of the public trust to other foreign sovereign nations and industrial activity; and the corporations of the United States being so organized as a franchise thereof, remain under the command of Donald J. Trump as of November 2020 - contrary the claims of the beligerant parties, who by legislation seek to install liens, drafts, and taking in secular (religious) cause against those lawfully organized and privately held rights not granted ownership or registration to the public trust or United States, most centrally in intellectual property and the liberty of the people as agents of any estate or INTERSTATE or INTRASTATE COMMERCE monopoly so made; for which the takeover of the United States government is a purposeful taking of credit, benefits, and wealth without consideration, consent, or fiduciary responsibility of a genuine agent.
The electoral college and its ability to vote independently and in any way it themed fit, contrary the people or their appointment, as a design of the Constitution of the United States, was not accidental in its making - and such failure to regard the danger of local and regional and foreign interference in our election, ballots, polling, and new media - was and is inappropraite and essential to a fraudulent order having no lawful power over the People or their government, even where issued by the Supreme Court of the United States; and such exploitation evident to a juvenile understanding of electronic information management and security as to affirm no confidence and no standing in such procedures now before the public as contest, nor by 'mail in ballot' process applied in this election and after November 4 2020 a 'late vote' which should have otherwise been lawfully managed using rudimentary Payment Processing methods not employed by the states to stop fraud. Like Obamacare and the Federal website for such service, this fraud has only damaged the UNITED STATES if it is sustained, and such endorsement will solely serve to invalidate that agent as foreign and compromised, unfit to stand the public office, and obligated immediate replacement at the direction of the officers of the United States, a country entitled to lawful rule.
Failure to admit such rights exist, where not granted by government or enforced by the same, is the hallmark of Chinese Communist Party (CCP) authority claims, and have no standing or right whatsoever in the United States of America.
The inherent failure to admit 'personal property', 'right to work', and 'right to healthcare access without regard to credit established by participation in a state or Federal employment program' are also critical and alien law evident in these crimes.
Where such 'secular taking' on a 'foreign theory of law falsely themed mental health' due to strict government suppression and radicalized socialist government treatisies arise, no orders or obligations made by such authority are binding or lawful, nor any agency or organization supporting them a legitimate member of the Federal Union or United States of America.
The inability to understand the lack of regulation to support individual choice, contrary the direction to act or imply a criminal wrongdoing in refusal to comply with instruction and advice on personal health, safety, and assembly (or right to refuse to assemble or associate, which are equally protected) and to suggest such voluntary activity or religious activity is criminal, are all hallmarks of Chinese Communist Party (CCP) and radical Japanese socialist movements carried over from the AXIS era of Socialist Germany and radicalized Marxist Russian activity. Neither of which is lawful in the United States. By attacking Donald J. Trump to suggest deceit or failure to act a cause for loss of life, the parties did disclose their mental illness and criminal intent to defraud the United States of individual authority in the franchise of the agents body and natural born person, and enslave such persons to the legal fiction of the estate made for its simple protection of benefits wrongly, a false civil procedure prohibited by 42 U.S.C. 1981 and 1994. In assault to attack the reputation of character, so prohibited in 76 O.S. 76-1 and 76-3 and 76-6, and to suggest loss of civil honors in 76-8, for dissent protected in 15 U.S.C. 1692g and state-level rule in 1692n, against the very language of criminal acts prior indictment to refute civil procedure in debt specified in 1692d, and in taking beyond limits in 15 U.S.C. 1673(c) rule and specified in TITLE IV GRANT programs per 45 CFR 302.56(c) and 302.56(f) and 303.6 and 303.100(a)(3) so made also in 42 USC 666(a)(9) 'operation of law' and 666(a)(10) 'automatic' changes due, not made and then paid in fraud by THE CARES ACT OF 2020 and proposed redirection of benefits in the HEROES ACT OF 2020, is this fiduciary theft to embezzle benefits of the United States affirmed, 18 USC 666 felony activity.
So by such 04/15/2020 activity and promise to repeat this by Joe Biden and Kamala Harris, do we assert then 22 O.S. 22-31 rule and in defense of others so abused in violation of 21 O.S. 21-8 rule, to conviction prior trial to silence dissent or support for this fraud; allege the 2020 Presidential Election a void contest and invalid procedure, and allege further foreign unregistred agent status of those responsible for such claims in full and all cases by employment, agents of a foreign government under color of law and commission of the United States falsely undertaken.
The rule is clear (below), and the false election claims made a crime not afforded this legal contest under these circumstances which has no precedent in our history as a nation - formally asserted as sino-Asian and Saudi Arabian in nature and economic activity against the United States by "The People's Republic of China" and "Nation of Japan" jointly and activitly with industrial effort and economic support to aid in the overthrow of the lawful government of the United States by fraud. Whereby any percentage of our nation is enjoined in this act, that sad minority has no authority in a Republic to make such claims, and are criminal and subject suspension of all rights, privileges, and ordinary civil honors until the contest is resolved and order restored to all states and territories of the Republic, and perpetually in cases of direct action or support to this treason.